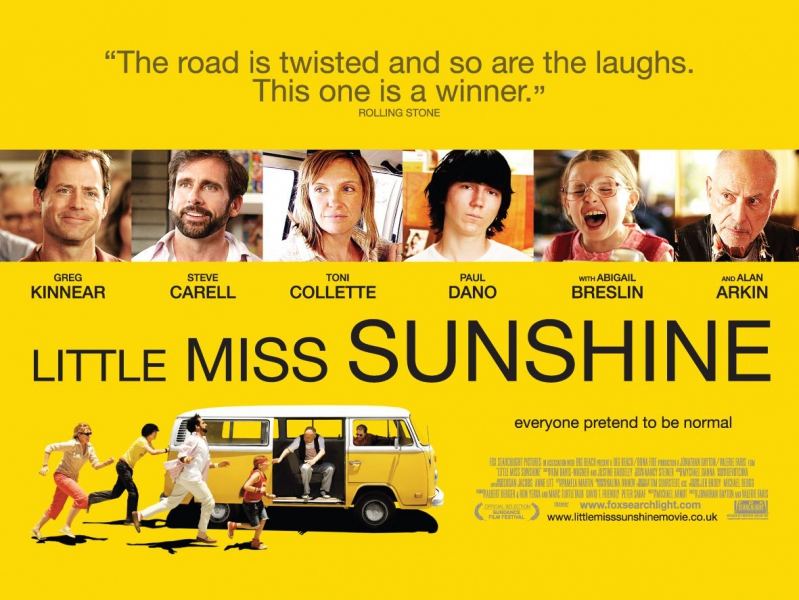 Little Miss Sunshine is a 2006 American comedy-drama road film and the directorial debut of the husband-wife team of Jonathan Dayton and Valerie Faris. The screenplay was written by first-time writer Michael Arndt. The film stars Greg Kinnear, Steve Carell, Toni Collette, Paul Dano, Abigail Breslin, and Alan Arkin, and was produced by Big Beach Films on a budget of US$8 million. Filming began on June 6, 2005 and took place over 30 days in Arizona and Southern California.
The film premiered at the Sundance Film Festival on January 20, 2006, and its distribution rights were bought by Fox Searchlight Pictures for one of the biggest deals made in the history of the festival. The film had a limited release in the United States on July 26, 2006, and later expanded to a wider release starting on August 18.
Little Miss Sunshine had an international box office gross of $100.5 million. The film was nominated for four Academy Awards, including Best Picture, and won two: Best Original Screenplay for Michael Arndt and Best Supporting Actor for Alan Arkin. It also won the Independent Spirit Award for Best Feature and received numerous other accolades.
Giovedì 9 Novembre 2017
21:00